Law Firm Makes Substantial Donation to Skywalk Memorial Foundation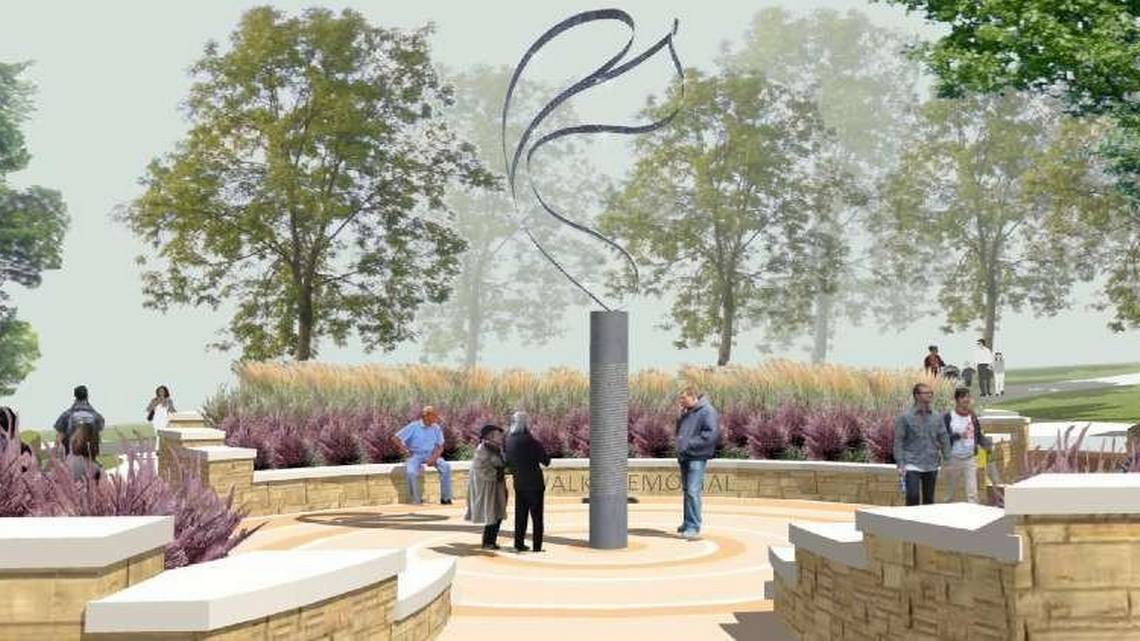 Kansas City law firm Shamberg, Johnson & Bergman provided the Skywalk Memorial Foundation with a substantial donation to be used for the construction of a memorial to remember the victims of the skywalks collapse in 1981. The $20,000 donation arrived just prior to the 32nd anniversary, July 17, 2013, marking the tragedy, which claimed the lives of 114 people and injured more than 200 others. The memorial will be built at Hospital Hill Park at 22nd & Gillham in Kansas City, Missouri.
"This donation helps put us closer to our goal and we thank the attorneys and staff at Shamberg, Johnson & Bergman," said Skywalk Memorial Foundation President Brent Wright. "We want this to serve as an opportunity for other law firms and lawyers to contribute so we can complete this project for the families of the victims offering them a place they can gather together to reflect and heal."
Shamberg, Johnson & Bergman has a long history with the collapse. During the litigation process, because of the high volume of cases and number of attorneys, a state court plaintiffs' committee was formed, which included a number of prominent Kansas City plaintiff's attorneys, including John E. Shamberg and Lynn R. Johnson of Shamberg, Johnson & Bergman. Ultimately, Johnson was one of four attorneys appointed as class counsel for the state class action who worked without compensation to successfully resolve all of the wrongful death and personal injury cases in a manner that assured that all victims were entitled to and received full and fair compensation. This was accomplished through unprecedented cooperation of the attorneys representing all the parties to this complex litigation.
"Having worked with and personally known the families affected by this tragedy, our firm is behind the goals and mission of this memorial," said Johnson. "We believe every law firm or lawyer with any ties to the collapse should contribute. Let's make this finally happen for these families."
During a tea dance on July 17, 1981, 114 people were killed and 216 others injured when two suspended walkways at the Hyatt Regency Hotel collapsed. It remains the deadliest structural collapse in U.S. history other than the terrorist acts in New York City and Oklahoma City.
The Skywalk Memorial Foundation (SMF) is a nonprofit corporation committed to building a memorial to honor the victims and rescuers of that night. Members of the SMF, rescuers and survivors of the tea dance are featured in The Star's coffee table book, "The Last Dance: The Skywalks Disaster and a City Changed," part of its series of historic books chronicling important stories in Kansas City.
The Skywalk Memorial Foundation consists of a board of directors and numerous others who have volunteered their time and resources to this worthy and much needed cause. The current board members include: John Sullivan and Brent Wright, who lost their mothers; Wright also lost his stepfather; Vincent Ortega was the first police officer who responded that fateful evening; and Bill Quatman is an attorney and architect who writes and speaks frequently on the lessons learned from the collapse.
For information on how to get involved, please follow us on Facebook. You may also e-mail us at info@skywalkmemorial.org or leave a voice message at (816) 542-5999
Shamberg, Johnson & Bergman Foundation Helping to Continue the Good Work of KC Organizations
The Shamberg, Johnson & Bergman Foundation is a private philanthropic organization dedicated to enhancing and enriching the quality of human life and equality of justice for all regardless of race, gender, age or financial standing.
Established in 1999 by the partners in the Shamberg, Johnson & Bergman law firm, the Foundation is guided by the core values that shape the way we conduct our lives and business…to be fair, giving and free of prejudice. These values include a strong commitment to helping others, building a strong community and promoting equal protection and rights for individuals in our civil justice system.
We believe it is especially important to help support organizations and institutions that play significant roles in enhancing the quality of life and promoting equality of justice in the Kansas City metropolitan area communities where our offices are located and where our families and our employees live and work.
The organizations listed below represent a partial list of organizations, which the Shamberg, Johnson & Bergman Foundation has made contributions to in the past:
911 Hero's Fund (ATLA)
American Association For Justice
Boys & Girls Clubs Of Greater Kansas City
Brain Injury Association Of Kansas & Greater Kansas City (Amy Thompson Run)
Center For Justice & Democracy
Child Abuse Prevention Center
Children's TLC (Groundhog Run)
City Union Mission
Civil Justice Foundation
Cystic Fibrosis Foundation
Dream Factory
Easter Seal Society
Greater Kansas City Women's Political Caucus
Greater Wichita Community Foundation
Habitat For Humanity'
Higher M-Pact
Hyman Brand Hebrew Academy Civic Service Award
Johnson Countians For Justice
Johnson County Bar Foundation
Kansas Association For Justice
Kansas City Autism Training Center
Kansas City Metropolitan Bar Foundation
Kiwanis Student Assistance Program (Pancake Day)
KKFI Community Radio Blood Drive
LEAP Foundation (Lawyers Encouraging Academic Performance)
Legal Aid Of Western Missouri
Marillac Center
Mothers Against Drunk Driving (MADD)
Negro Leagues Baseball Museum
Niles Home For Children
North Kansas City Hospice
Phoenix Foundation Of Greater K.C. (Bike Helmet For Kids)
Roscoe Pound Foundation
Rose Blumkin Jewish Home
Rose Brooks Center
Sheffield Family Life Center
Sherwood Center
Southern Poverty Law Center
Special Olympics
Sunflower House
United Cerebral Palsy Foundation
United Way
University Of Missouri At Kansas City Law Foundation
Wyandotte County Bar Foundation
Zoo (K.C.) Learning Fund