Kansas City Medical Malpractice Attorneys
Missouri Medical Negligence & Maltreatment Claims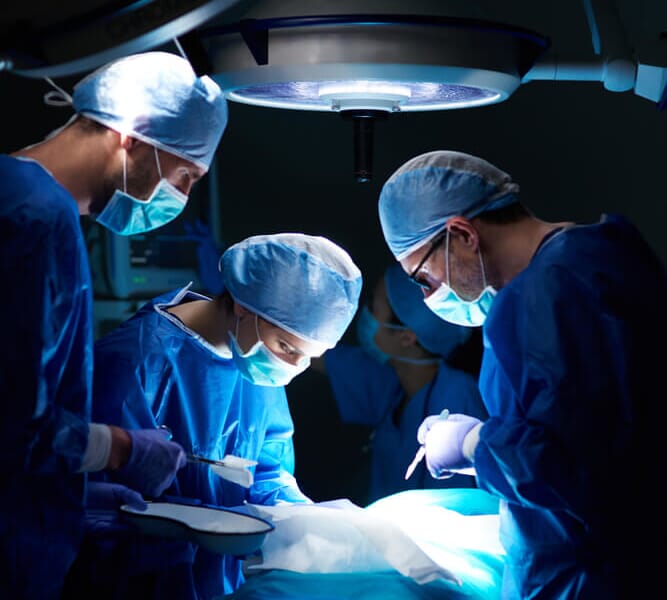 Doctors, nurses, hospitals, and other healthcare providers and facilities are held to the highest standards of training and skill. When you go to a healthcare provider, you have a right to expect timely diagnoses and effective treatment. Unfortunately, mistakes happen and serious injury or death can result.
If you believe that you or a loved one was the victim of poor medical treatment or substandard care, contact our Kansas City medical malpractice lawyers at Shamberg, Johnson & Bergman, Chtd. to discuss the specifics of your potential medical negligence claim. Our firm offers the professional, technical, and financial resources needed to handle the most complex types of medical negligence cases in Missouri.
We have been the area's trusted choice for powerful legal representation since 1949 and have successfully secured more than $750 million for our clients to date. We are proud to serve individuals within our community, as well as throughout the Midwest, and strive to offer the personalized, compassionate, and comprehensive support you need to move forward.
Contact our firm online or call our office at

(816) 542-5999

today to get started with a free initial consultation. There are no fees unless we win your case.
Click on any of the topics below to jump to that section on the page:
Types of Medical Malpractice Cases We Handle
Shamberg, Johnson & Bergman, Chtd. is one of the region's leading names in medical malpractice litigation. Since 1949, we've been helping victims and their families fight to recover the catastrophic financial and personal damages that result when a doctor or healthcare provider makes a serious error.
No law firm can tell you that it has the medical and technical expertise to handle complex medical malpractice cases without a team of independent specialists on its team. Our integrity and effective legal strategies give you the advantage of having the most successful experts in all areas of medical diagnosis on your side.
We represent clients in all types of medical malpractice cases in Kansas City, including those involving:
Failure to treat a medical condition
Delayed diagnosis
Birth injuries (to mothers and babies)
Emergency room and hospital errors
Pharmaceutical errors
Dangerous medications
Medical malpractice and negligence in nursing homes
This is not a comprehensive list. If you or someone you love was the victim of any type of medical malpractice or negligence, including substandard treatment and care not listed here, reach out to a medical malpractice attorney in Kansas City as soon as possible for a no-cost, no-obligation consultation.
Proving a Medical Malpractice Case in Missouri
When an injured individual decides that they will initiate litigation against another party, they must be aware of the elements that they are responsible for proving in their case. Every civil claim is different and, therefore, anyone who believes they may have grounds for a medical malpractice claim should consult with their own counsel rather than relying on the information provided herein as a basis for their legal claims. The information on this page is provided as a very basic overview of what a person might be asked to prove if they allege that they are the victim of medical malpractice in Kansas City.
In order to successfully pursue a medical malpractice claim, you must be able to prove all of the following elements:
Duty of Care
As with other claims that are based on negligence, a victim may first be asked to prove that the allegedly responsible party owed them, the victim, a duty of care. In the doctor-patient relationship, this duty can arise when a doctor agrees to treat a patient. Doctors are assessed by a legal standard that compares their actions to those that a reasonably prudent doctor would take given the circumstances of the victim's case.
Breach
Next, a victim may have to prove that, given the duty that existed between the doctor and patient, the doctor violated that duty in some way that caused the victim to suffer harm. For example, if a reasonably prudent doctor would have ordered x-rays or other diagnostic tests regarding a patient's condition and the responsible doctor did not do so, thus leading to the patient to suffer longer with an ailment, the doctor may have breached their duty to the patient.
Injury and Causation
Finally, and as suggested in the preceding point, the doctor's breach of his duty to the patient must have caused the patient's harm in a proximate manner. If the patient would have suffered the same harm regardless of the doctor's actions, the victim may not be able to prove that the doctor committed medical malpractice. However, when medical mistakes and doctor errors cause patients to experience worsened conditions and heightened medical problems, those victims often are able to prove their cases under medical malpractice theories of law.
While medical treatment does not always have a favorable outcome, it is not enough that you did not get better or recover after being treated by a medical doctor. Instead, you must prove that the doctor (or another healthcare professional who treated you) failed to provide an acceptable standard of care and that this resulted in your injuries or other harm.
Compensation in Missouri Medical Malpractice Cases
A doctor's mistake can cause severe harm to their patient. Prescribing the wrong medication or the incorrect dosage can cause immediate harm, whereas failure to diagnose cancer can cause a patient to suffer for months or even years, if they live that long. That is why victims of medical malpractice deserve to be reasonably compensated for all injuries and losses resulting from their doctor's or hospital's mistake.
Medical malpractice damages are split into two general categories: economic and non-economic:
What are economic damages?
Economic damages include almost anything that can be replaced with money. This category of damages is very broad and will vary from case to case. Economic damages nearly always include the reasonable expenses of:
Necessary medical care
Hospitalization and treatment
Loss of income or earning capacity
Loss of time
The reasonable value of services provided by family members for free
The cost of hiring others to perform normal household duties
The loss of the injured person's services to his or her spouse
These losses may be projected into the future on the basis of expert testimony regarding continuing disability and the cost of future needs or losses.
What are non-economic damages?
Non-economic damages are those losses that cannot be quantified in a dollar amount. The most prominent examples are pain and suffering, mental anguish, inconvenience, physical impairment or disability, disfigurement, and loss of enjoyment of life. The importance of categorizing damages as economic or non-economic lies in the fact that non-economic damages are often capped under state law.
For example, in Kansas, non-economic damages are capped in all personal injury cases at a maximum of $250,000, no matter how many defendants contributed to the cause of the injury, and no matter how bad the injury. In Missouri, while most personal injury cases are not subject to damage caps, non-economic damages in medical malpractice cases have a cap of approximately $350,000.
We often see cases where people's lives are devastated by catastrophic injuries, but economic losses are limited and the capped amount of non-economic damages is unfairly inadequate, particularly when the victims are children or elderly individuals.
Why You Need an Experienced Medical Malpractice Attorney in Missouri
Hospitals play a literally lifesaving role in society. As a result, hospitals and their staff are generally very well-respected. However, behind every successful and respectable hospital are doctors, nurses, anesthesiologists, and other healthcare providers who are not exempt from making mistakes.
Medical errors can occur in any hospital, including those in and around Kansas City. Unfortunately, some of these errors are not recognized in time, resulting in worsening conditions or even death. Under such circumstances, it is important for families to know every detail concerning the alleged medical error.
Our firm can thoroughly investigate your case to determine the root cause of a suspected incident of hospital negligence. For example, if a patient was mistakenly diagnosed, we can evaluate the case to identify if the doctor accurately diagnosed the patient's condition in a timely manner. This detailed analysis may provide the potential reason and fault for the incident.
Different medical terminologies are involved in medical malpractice cases. Although understanding these can be particularly challenging for families, our legal team has adequate knowledge of such terms. Our Kansas City medical malpractice lawyers have an independent specialized team that can analyze medical records, as well as other documents and information provided by the hospital. These specialists are adept at observing the potential causes of any medical errors, ranging from surgical errors to failure to diagnose to hospital infections and defective medical devices.
Request a Free Consultation Today
Medical malpractice cases are unique and often highly complex. Our experience handling hospital errors has successfully protected patients' interests in the midst of overwhelming medical ordeals. We believe that every patient deserves accurate and proficient medical service from their healthcare providers. When errors occur, it is our job to hold negligent parties responsible for the outcomes of their actions.
Contact our medical malpractice lawyers in Kansas City to learn more about our record of success. Our experienced trial attorneys represent clients in cases throughout Missouri, Kansas, and the Midwest. If your injuries or condition prevents you from traveling to our office, we will make every effort to come to you.
Give us a call at

(816) 542-5999

or submit an online contact form today to request a free initial case evaluation with one of our Kansas City medical malpractice attorneys.
Q:

What is medical malpractice?

A:In general, the terms "medical malpractice" or "medical negligence" refer to negligence cases brought by an injured patient against a healthcare provider or healthcare entity, such as a hospital.

Q:

What is negligence in a medical malpractice setting?

A:In a malpractice case, the jury is instructed that negligence means the failure to use that degree of skill and learning ordinarily used under the same or similar circumstances by members of the defendant's profession. This degree of skill and learning is called the "standard of care." The standard of care is generally proven through the testimony of expert witnesses who establish the applicable standard and explain how the healthcare provider deviated from that standard. For example, the standard of care generally requires a physician to take an adequate medical history, perform an examination, order necessary laboratory tests, properly interpret the results, and evaluate the data in order to form a "differential diagnosis," or list of possible explanations for the patient's presentation. A physician should also disclose significant risks and obtain informed consent from patients, give treatment only for proper medical reasons, prescribe correct medications, provide proper follow-up, obtain appropriate consultations, and provide patients with current therapy or treatment options.

Q:

How does our firm determine whether to file a medical malpractice lawsuit?

A:First, we must determine if we can meet our burden of proving three things: 1) that the healthcare provider breached the standard of care; 2) that there are substantial damages; and 3) causation, meaning that the breach of the standard of care caused the substantial damages.

Q:

How do you select and find experts?

A:In legal terms, an "expert" is someone who is specially qualified by experience or training and possesses knowledge on matters not commonly understood by the general public. In medical malpractice cases, there are often numerous experts needed on a variety of issues, including negligence, the nature and extent of the damages, and the causal link between the negligence and the damages. Our firm attempts to bring the highest caliber of expert witnesses to each case.

A:"Causation" is an important legal concept that means the negligent act of the healthcare provider must have caused (or contributed to) the injuries and damages claimed by the patient. Many cases are defended on the ground that there is no causal relationship between the claimed damages and the alleged negligence. Consider, for example, a case claiming negligent failure to diagnose lung cancer resulting in a delay of a year or more in treatment where the patient eventually died. The defense may contend that there was no causal relationship between the year's delay and the death. The physician's defense could be that the original cancer was not treatable in the first place, so the delay in starting treatment, while negligent, was of no causal consequence.

Q:

What are punitive damages, and can they be recovered in medical malpractice cases?

A:Punitive damages are not based on the severity of injury to the plaintiff but, rather, on the need to punish the defendant and deter others from engaging in like conduct. While negligence by a healthcare provider may entitle the injured party to compensatory damages, both economic and non-economic, negligent conduct does not subject the defendant to punitive damages. Before punitive damages may be awarded, the plaintiff must prove that the defendant acted in a "wanton or intentional" way, which includes the "reckless disregard of a known danger" to the plaintiff's health and safety. This must be proven by clear and convincing evidence. Punitive damages are extremely rare in medical malpractice cases, but they are available in appropriate circumstances.

Q:

Do I have a medical malpractice case if I got worse after seeing my doctor?

A:One of the main reasons people come to us believing they may have a medical malpractice or negligence claim is because they visit their doctor with symptoms or a known condition and experience worsening effects. However, it is important to stress that worsening symptoms or a condition that does not improve with treatment is not necessarily an indication of malpractice. Our attorneys will need to conduct a thorough investigation to determine if a doctor or another healthcare professional failed to provide an acceptable standard of care and if this was the cause of your worsening condition or injuries. There are many reasons why proper medical treatment might lead to poor outcomes; some illnesses are simply difficult to treat, some treatments can have negative side effects or carry a high risk of complications, and there are no guarantees that a patient's illness or condition will improve. In other cases, even when a healthcare provider is clearly negligent, if the negligence does not lead to an injury, worsening condition, or other poor outcome, the patient will not have a case. It's important that you talk to an experienced and knowledgeable attorney who can help you determine if you have grounds for a medical malpractice lawsuit.

Q:

How much does it cost to hire an attorney?

A:At Shamberg, Johnson & Bergman, Chtd., we will not charge you for any of the time we spend visiting with you or the investigation of your case. We work on a contingency fee basis, meaning we are careful about what cases we accept because we only earn a fee if we win a recovery for our clients. If we do not recover compensation for you, you do not pay.

Q:

What happens when I hire your firm?

A:We start with an interview to determine the facts as you know them and make a judgment about whether the case is one that falls within our experience and interest. The ensuing investigation begins with the collection of all pertinent medical records directly from the healthcare providers. We ask you to sign releases authorizing us to obtain these records. Next, we review and analyze the records to determine exactly what happened, then research the medical literature to identify questionable areas of medical practice. If we believe there is a strong probability that medical malpractice occurred, we will submit your records to appropriate experts for review, asking them for their opinions on the issues of negligence, damages, and causation. This review can be quite expensive and time-consuming (anywhere from $2,000 to $10,000 per expert). The financial arrangements for investigations are determined on a case-by-case basis. If, after consultation with experts, we believe that we can satisfy our burden of proof, we recommend that the case be filed.

Q:

What considerations are taken into account in determining whether you will file a case?

A:There are legitimate and meritorious cases of medical malpractice which we do not take as a matter of firm policy. We try to balance the probable result of a case, either by settlement or by jury verdict at trial, against the cost of obtaining that result. Medical malpractice cases are extremely time-consuming, and absorb a tremendous amount of our firm's resources. We handle medical malpractice cases by a "team" approach, usually involving a principal attorney, an associate attorney, a paralegal, and one or more secretaries. In addition to our time and resources, medical malpractice cases have a high out-of-pocket cost for experts, depositions, travel, research, trial exhibits, and many other things. As previously mentioned, in all cases, we must determine if the matter is "economically feasible." We do not handle cases where the time, resources, and expense at risk outweigh the probable result we can obtain on behalf of our clients.

Q:

What is the possibility of a quick settlement if my doctor made a terrible mistake?

A:In our collective experience, quick settlements can occur but almost never in amounts that are realistic or reasonable. If you are willing to deeply discount and compromise your claim, there are healthcare providers and insurance carriers who will be glad to buy you off very cheaply. If you want a settlement that is fair and reasonable, do not expect this to happen quickly. Healthcare providers are reluctant to admit mistakes and almost routinely insist that their insurance companies defend them aggressively. It is usually not until 30 days before trial that serious settlement discussions occur. In the venues in the Kansas City Metropolitan Area, most medical malpractice cases can be resolved within 18 months to 2 years, more or less. Therefore, we tell our clients not to anticipate a quick settlement but, rather, to get on with their lives and be very patient in regard to settlement. Impatience can be extremely costly, considering what is at stake in these cases.

Q:

How do I know that you will do a good job on my case?

A:We believe that experience and results count. Our firm has placed our biographies and several of our newsletters on this website, which will give you a good sampling of our experience and results. We have a commitment to getting an excellent result in every case we decide to pursue, and our track record and credibility are extremely important to us. Please keep in mind that every case is different and no result is guaranteed. We can, however, promise our best effort and the benefit of our experience and resources on each and every case we accept.
TESTIMONIALS
We've Helped Thousands of People Just Like You
- Katy Brown

- Amanda H.

- Deanna B.

- Jeff K.

- Brant H.
What Makes Shamberg, Johnson & Bergman Different?
Highly Respected in Our Field

Our attorneys are well-established in various areas of practice, including Attorney Lynn R. Johnson, who is a member of the prestigious Inner Circle of Advocates.

A Legacy of Excellence

We have a longstanding history of exemplary legal representation dating back to 1949, but are committed to leveraging forward-thinking practices and technology for the benefit of our clients.

Trial-Ready Legal Advocacy

While most of our cases result in successful settlements, our willingness to go to trial enables us to secure more favorable outcomes.

A Network of Support

We work to ensure that you receive the resources you need after an injury, including medical care, access to experts, emotional and financial support.

Committed to Our Community

Our advocacy does not stop in the courtroom - it extends into our support for various local organizations that benefit our community.

Personal, Hands-On Attention

All members of our team, including partners, associates and paralegals, are committed to providing direct contact and clear communication.
Shamberg, Johnson & Bergman
Bringing Dedication & Determination To Every Case
There are many very good reasons for choosing the attorneys of SJB to represent you. Law firms have different skills, different areas of expertise and different ways of approaching cases. Find out about our firm's strengths, successes on behalf of our clients, and more importantly, the five reasons why you should hire us.