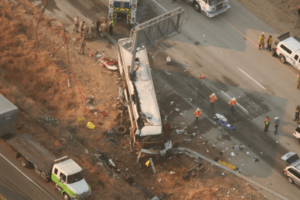 In a November 13, 2017, press release, the National Transportation Safety Board (NTSB) said that a fatal California highway accident was caused by a fatigued motorcoach driver (NTSB Says Federal Regulator Not Doing Enough to Keep Unsafe Operators Off Roads).
Four of 24 passengers were killed when the motorcoach struck a barrier system and highway signpost around three in the morning. The impact with the signpost split the motorcoach in two over nearly its entire length. The NTSB's investigation found that the driver was in a state of "acute sleep loss" because he had only five hours of sleep over the previous 40 hours. There was no evidence that the driver tried to stop or steer clear of the barrier.
The owner of the motorcoach, Autobuses Coordinados USA, Inc., failed eight of 29 federal inspections in the last two years, resulting in an out-of-service rate nearly five times the national average. The NTSB recommended that the FMCSA alter its rating system to require motor carriers with significant safety problems to either resolve those issues or suspend their services.
"Here's yet another fatal crash involving both a motor coach carrier with a starkly evident history of safety problems and a severely fatigued driver," said NTSB Chairman Robert L. Sumwalt.  "It's time that the Federal Motor Carrier Safety Administration moves more aggressively to keep these unsafe carriers off American roadways."
Citing two early-morning motorcoach accidents from 2011, the NTSB noted that driving, when deprived of sleep, creates unique safety risks. The NTSB repeated a prior recommendation to the FMCSA that hours-of-service regulations for overnight drivers be based on scientific fatigue management approaches.
It is encouraging to see the NTSB advocate for stricter safety requirements for the drivers of large commercial vehicles. The damages in an accident involving a commercial vehicle are so devastating to both the passengers and the other vehicles on the road that every precaution must be taken to ensure the safety of the American public. However, the NTSB cannot prevent every accident. The owners and operators themselves need to take responsibility for guaranteeing the safety of their own vehicles.
If you have been injured in an accident with a large commercial vehicle, please contact Shamberg, Johnson & Bergman for a free consultation. We only receive a fee in the event of a successful resolution of your case.