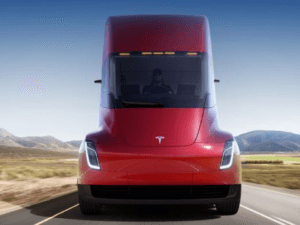 Tesla Inc., known for its production of electric cars, recently unveiled a new electric tractor-trailer in Hawthorne, California (Tesla Semi, an electric big-rig truck with a 500-mile range, rolls into reality). The electric truck, set to begin production in 2019, is capable of traveling 500 miles on a single electric charge, even with a full 80,000-pound load.
Tesla CEO Elon Musk said that its electric truck would cost $1.26 per mile to operate compared to $1.51 per mile for a standard diesel truck, a savings of 20%. Musk added that Tesla Semis could travel in a convoy, allowing them to draft off each other while computers and sensors keep them a few feet apart at highway speeds, at a cost of only 85 cents per mile.
According to Musk, Tesla trucks can attain a speed of 65 mph up a 5% grade, while a standard truck can only reach 45 mph. Even more importantly, the new electric trucks would have a range of 500 miles at maximum weight. "You can go 250 miles, deliver your load and come back," Musk said. In addition, achieving an 80% charge would take less than 30 minutes, "or about the time of the average driver break."
The Tesla Semi's interior is also an innovative design. The driver's seat is located in the center of the cab and allows greater road visibility because it is set extremely far forward because there is no engine. From this central position, the driver can keep an eye on two computer screens monitoring the truck's running condition and shipment details.
The electric truck utilizes Tesla's Autopilot system, which can slow down automatically in traffic, maintain a set speed, and keep the vehicle in its lane. "We're confident that this is a product that's better in every way from a feature standpoint," Musk said.
There are approximately 4 million tractor-trailers currently on the road in the United States, nearly all of them powered by diesel engines. Hopefully, innovators like Elon Musk will not only be able to reduce the negative environmental impact of the trucking industry, but also utilize technological advancements to improve the safety of American drivers who have to share our nation's highways with these massive vehicles.
If you have been injured in an accident with a large truck or tractor-trailer, please contact Shamberg, Johnson & Bergman for a free consultation. We only receive a fee in the event of a successful resolution of your case.