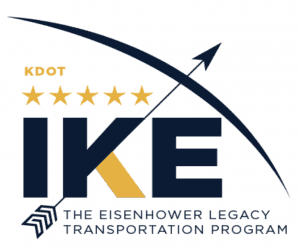 Kansas Governor Laura Kelly recently signed a bipartisan bill creating the new Eisenhower Legacy Transportation Program (IKE), a 10-year transportation program that preserves the existing system and provides flexibility to address current and future opportunities and challenges (Governor signs bipartisan transportation plan into law).
"This fiscally responsible program provides a visionary approach so that Kansas has the flexibility to address immediate needs and secure more opportunities for our future," Kelly said. "Investing in Kansas' infrastructure means putting people to work. It means fixing our roads and bridges. It means safer transportation for our most precious cargo — our children. I commend the bipartisan work of our legislators for the overwhelming support and approval of this legislation. Its swift passage is important to help the Kansas economy recover when this public health pandemic passes."
The IKE program features the following key elements:
All remaining T-WORKS projects will be let to construction by July 1, 2023.
The act requires the Kansas Department of Transportation (KDOT) to establish metrics guaranteeing that highway preservation needs are completely funded.
The rolling program ensures emerging needs can be met because new projects will be
selected every two years instead of once a decade.
The legislation requires KDOT to develop minimum spending ranges for all districts in the state.
Each Kansas county will receive over $8 million in transportation improvements.
Investments in broadband and new technology will facilitate internet expansion and improve safety and communication in the state's infrastructure.
"Sincere thanks to legislators and Governor Kelly for quickly approving this legislation," said Kansas Secretary of Transportation Julie Lorenz. "We have a lot of work to do. Beyond identifying projects for the development pipeline to garner potential federal stimulus funds, we need to deliver projects faster and at the highest value for Kansas taxpayer dollars."
The program began with the creation of the Joint Legislative Transportation Vision Task Force in 2018. "Including the Task Force and KDOT's local consult discussions, 27 meetings were held across Kansas to gather input," said Senator Carolyn McGinn, co-chair of the Task Force. "I want to thank the more than 2,000 Kansans whose input shaped a program that will create jobs, improve safety, and protect our investments."
A modern transportation system must move people, freight, and technology safely and efficiently. Hopefully, this new IKE program will help accomplish those goals in the state of Kansas, especially considering the complications created by the coronavirus pandemic.
If you or a loved one have been injured in a traffic accident, please contact Shamberg, Johnson & Bergman for a free consultation. We will only receive a fee in the event of a successful resolution of your case.