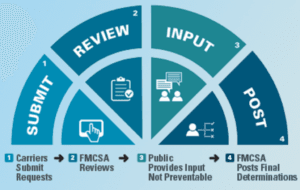 The Federal Motor Carrier Safety Administration (FMCSA) invites motor carriers and drivers involved in certain types of crashes to submit Requests for Data Review (RDR) through its Crash Preventability Demonstration Program (Crash Preventability Demonstration Program Overview). The program is limited to accidents that have occurred since June 1, 2017.
Because studies show that involvement in an accident is an indicator of future crash risk, FMCSA compiles the data from 3.5 million roadside inspections and 150,000 crashes each year in order to determine which motor carriers create the most danger for American drivers. The Crash Preventability Demonstration Program allows a motor carrier to request a review of an accident seeking a determination that it was not at fault and the accident was Not Preventable.
FMCSA will accept Requests for Data Review for the following kinds of crashes involving commercial motor vehicles (CMVs):
motorist driving under the influence
a vehicle going the wrong direction
rear-end collision
while legally stopped or parked
an individual attempting to commit suicide
damage after striking an animal
infrastructure failure, falling trees, rocks, or other debris
cargo or equipment from another vehicle
Motor carriers must include convincing evidence showing that the accident was Not Preventable, including but not limited to:
crash reports
police accident reports
insurance documents
videos or photos
media reports
affidavits
transcripts
As a part of every determination of preventability, FMCSA will verify that the driver had a valid Commercial Driver's License (CDL) and a medical certificate at the time of the accident.  In the case of any accidents that resulted in a fatality, FMCSA will require documentation from drug and alcohol tests.
Because an accident with a CMV can inflict devastating damage on motorists in regular vehicles, it is good to see that the FMCSA is attempting to ensure that the drivers of these massive vehicles engage in safe practices. If you have been injured in an accident with a CMV, please contact SJB for a free consultation. We will only receive a fee in the event of a successful resolution of your case.