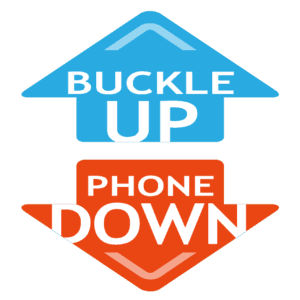 Missouri Governor Mike Parson declared October 19, 2018, Buckle Up Phone Down (BUPD) Day, during which the Missouri Department of Transportation (MoDOT) challenged all Missouri drivers to fasten their seat belts and put their cell phones away (Accept the Challenge – Pass It On). This was MoDOT's Second Annual BUPD Promotion highlighting roadway safety.
The state of Missouri already has a law prohibiting texting, but it only applies to drivers 21 years old and younger. MoDOT, along with the Missouri Coalition for Roadway Safety, is asking all Missouri drivers, of any age, to obey the texting ban on BUPD Day and hopefully thereafter.
"The challenge is simple: when you get into any vehicle, buckle up your safety belt. If you are a driver, put your cellphone down. Turn it off if you have to," MoDOT Highway Safety and Traffic Engineer Nicole Hood said. "Taking the challenge to make sure every passenger is buckled up and choosing not to use your phone while driving can help save your life, the lives of your passengers, and the lives of occupants in other vehicles."
More than 90 percent of all serious traffic accidents are the result of human error. Texting while driving a vehicle raises the risk of a crash by 50 percent, and 61 percent of fatalities so far in 2018 have involved drivers or passengers who were not wearing safety belts.
"The loss of one life is one too many, especially when the solution is as simple as buckling up and putting your phone down," Hood said. "If you have already accepted the challenge, pass it on to those you know at home, work, school, or in your community."
A number of high schools across the state did their part to make Missouri's roads safer by accepting the challenge to buckle up and put their cell phones down. Many of these schools also made videos challenging the students at their rivals and other area high schools to follow suit and join the promotion of BUPD Day (BUPD Challenge Day).
Sometimes the simplest ideas can save the most lives, so kudos to Governor Parson and MoDOT for encouraging the citizens of Missouri to wear their seat belts and put away their cell phones. If you have been injured in a traffic accident, please contact SJB for a free consultation. We will only receive a fee in the event of a successful resolution of your case.